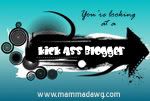 I'm so freakin' stoked to get this from Kim aka
Devilish Southern Belle
that I could just cry.
And it's not just the PMS.
I am really honored.
She already declared me her new girl crush when she realized we both loved A7X. How could you not love them?!
I've turned her onto the Twilight series and bagelfuls. That's why she loves me enough to pass along the Kick Ass Blogger Award.
I heart her back completely.