You may have noticed the new banner on my page for
Sexis
.
(Or not, but now I'm pointing it out, okay?!)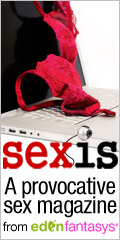 No, I'm not promoting porn - although I don't see anything wrong with that. To each his own I say...but in this case we're taking about
Sexis
, an online sex magazine developed by our good friends from
Eden Fantasy's
.
Oh no! Did I just say the dreaded "sex" word?
Oh yes I did.
The truth is that sex is a part of my world; S maybe even wishes it were a bigger part. You know how that goes...
I'd guess that it's been a part of your world too and that is what makes this magazine relevant to everyone.
The articles are well written and clever, with topics ranging from sex during pregnancy to safer sex 101. And be sure to check out The Bloggess - she is a riot and worth the trip, all by herself. Sure, there are some risque topics but that happens when you're talking about s-e-x.
Don't be afraid to look.
The set up is very tasteful; the pictures are sexy, not trashy and the articles are interesting and fun to read. I promise you'll find something that pertains to you.
Eden Fantasy's
has outdone themselves this time -
Sexis
rocks!
I know this is topic isn't for everyone but I want to encourage you to stop by Sexis and look around, so I'm doing a small giveaway for anyone that visits and then comes back to tell me your favorite part.

Just leave me a comment and I'll draw a winner from the comments on Monday. The gift is a surprise but you guys know I give away great stuff!