For all of you that are friends with me on Facebook, you may have noticed my current obsession with Bejeweled Blitz.
Probably because you've been spanking my ass at it.
Seriously,
Kat
what's your secret? How do you get scores that high?
Jayme
, maybe you can shed some light since you've also surpassed my score.
I NEED to know the secret. S & I are in a fierce competition to be the ultimate winner in our house. We've been battling it out for the last few days...first me on top, then him, then me, then him.
Is it getting hot in here or is it just me?
*Ahem*
As of bedtime on Monday S was in the lead, but then a miracle happened. The tournament ended yesterday; meaning that all the scores reset.
Hallelujah!
Yesterday I played that game so many times my eyes crossed, but I managed to get to 45,500. Still so far from the 50k medal that I wanted. SO. BAD.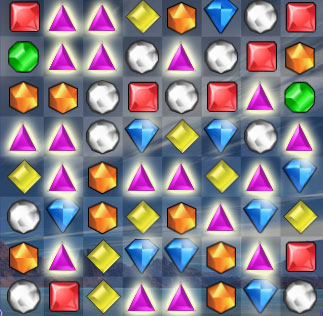 Although it was enough to stay ahead of S.
For one day anyway.
What's your current obsession? Are you competitive?
Will you still love me if I never reach 50k?
**In case you missed my "hellz yeah" message on FB, I just scored over 64,000! Hey S- stuff that in your pipe and smoke it!**